Color-correct production!
Meet customer requirements with accurate colors
Avoid discussions about the print result
Equip your designers and customers with cost-effective design versions
Keep your customers loyal
ColorEqualizer Production is a lean software that helps you achieve results that color match a ColorEqualizer design reference on digital textile printing systems.
Achieve color-accurate printing results!
ColorEqualizer optimizes the print data iteratively: after a first test print, ColorEqualizer analyzes the actual state, compares it with the target state and calculates the necessary color correction into the print file. Often after the first, but at the latest after the third correction, you get a result that visually matches the design reference.
Learn more about the highlights of ColorEqualizer Production in our video!
Do you want to test ColorEqualizer?
Less iterations - better results
Since ColorEqualizer performs the corrections directly on the print data, all color-modifying properties of your workflow are already included. Or in other words, ColorEqualizer works with all prepress workflows and RIPs!
ColorEqualizer also enables you to build a network of designers who will work with you in a color-matched way. Contact us to get bundle offers.
Try ColorEqualizer! You can test your demo version for 14 days without any restrictions!
All you need is a spectrophotometer (e.g. X-Rite i1 Pro3 Plus).
We offer inexpensive complete packages that include the measuring device as well as multiple licenses that you can equip your designers with! Just contact us!
You download your demo version here:
ColorEqualizer - Versions compared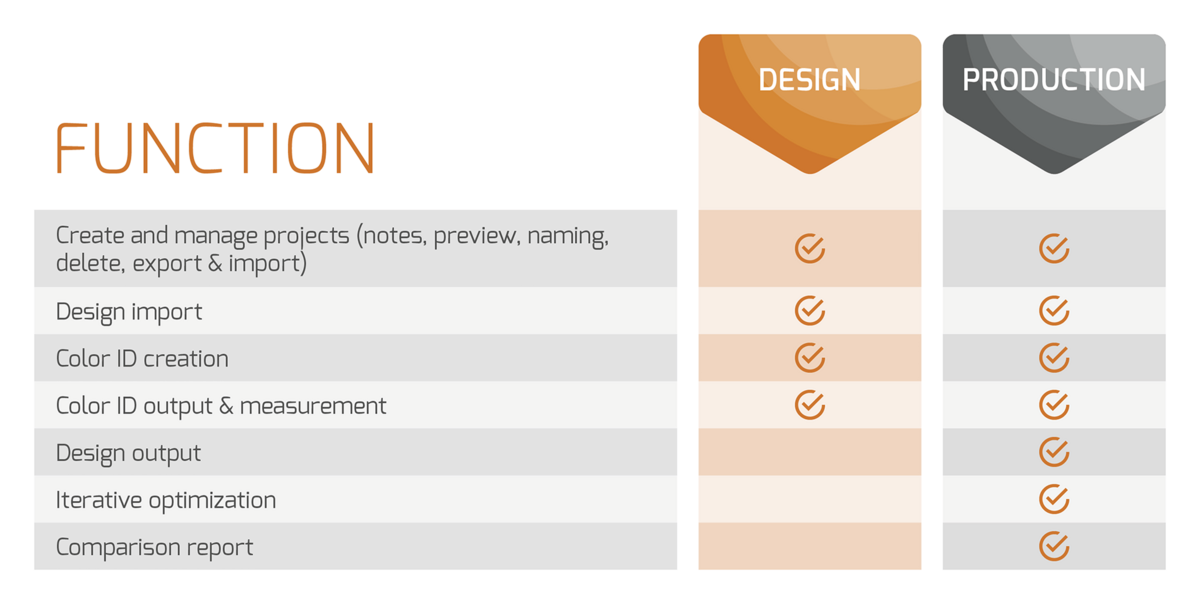 Operating systems (64-Bit)
Microsoft Windows 8.1
Microsoft Windows 10
MacOS 11 (Big Sur) or later
Note: MacOS is only supported with Intel CPUs. Apple devices with ARM-based processors are currently not supported.