Your Solution for Digital Ceramic Printing
The color-accurate decoration of ceramic products is a great challenge due to the different natural materials and the complex production process, which requires, for example, a firing process. ColorGATE gives you the tools to efficiently adapt your digital data to the constantly changing conditions.
The ceramics industry has already discovered the advantages of digital printing. Today, 95% of all tiles worldwide are already decorated digitally. In other areas, such as the decoration of tableware, the digital revolution is gaining momentum. The advantages are obvious: decor changes can be carried out virtually at the push of a button, and long and expensive set-up times are reduced to a minimum.
Accurate color management is important to reduce production interruptions due to manual testing and color adjustments, and to enable fast reproductions of existing decors - which also reduces production costs.
With the Ceramic Productionserver, ColorGATE has the product that you need - regardless of whether you are an end user, ink manufacturer or printing system manufacturer.

Reference
Want to Know How Our Products Improve Your Production Processes?
Have a look at our innovative workflow and color management solutions for digital ceramic printing across the entire production chain.
Together with Deutsche Steinzeug Cremer & Breuer AG, one of the leading suppliers of ceramic covering materials, we provide you with a unique insight into the advantages of our products in digital tile production.


First total solution for digital ceramics tile production
Complete workflow and color management system dedicated to ceramic production environments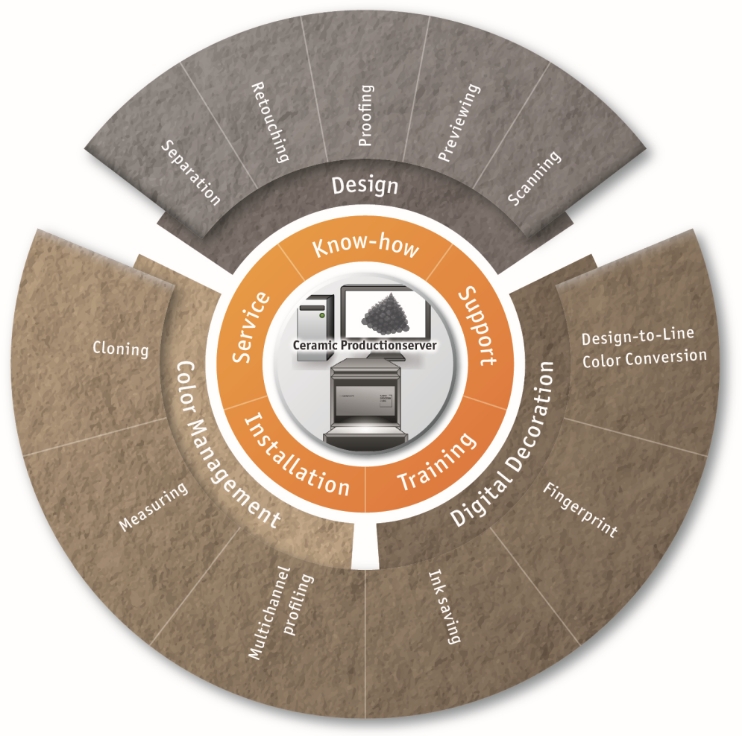 Matching products