Proofing made easy
Highlights
Proofing software for high-quality results
Easy to use thanks to supplied profiles and MIMs
Secure coordination between creative designers, customers and print production
Supports PDF/X-4, X-5, Postscript 3, EPS and raster data
Recalibration of printing systems in case of color variations
Remote proofing possible
Proofgate is a digital proofing and RIP solution that focuses on the essentials - especially for users in agencies, marketing and communications departments and prepress. ICC profiles and MIM sets for common proof standards and printers are already included.
Digital proofs are indispensable in the coordination between creative designers, customers and production. Proofgate offers highest quality in color management and print image. At the same time, the included MIM sets and profiles make it very easy to set up and use. Changes in the color reproduction of the proof printer, for example due to environmental influences or changes in the print head, inks and paper, can be compensated for via ColorGATE's Media Device Synchronization (MDS). So you can proof permanently and in top quality, even without expert knowledge!
Technical Details
ICC color management with CrossXColor Technology
Use of rendering intents (options: Photographic; Perceptual; Absolute perceptual; Relative colorimetric; Absolute colorimetric; Saturation; Absolute compression; Blackpoint compensation; Lightener compensation; Minimal white compensation)
Use of embedded ICC profiles in JPEG, TIFF, PDF, PSB and PSD files for use as input color space; embedded Output Intents can be used
Multicolor ICC Engine: Support of multicolor ICC profiles with up to 15 color channels
ColorGATE GamutPlus: Enhanced CMYK input color space, based on ISOcoated_V2 for a more color intensive output
Media-Ink-Metamode (MIM)
ColorGATE development to create production-influencing parameters such as medium (M), ink (I) and metamode (M); every MIM combination links profile, linearization and print mode settings into a single logical unit
MIM administration: import, export, administration and processing of MIM combinations
IPrinting and evaluation of various contral and media wedges


Idealliance Control Strip 2009, Fogra Media Wedge (ISO 12647-7) and Fogra Media Wedge (ISO 12647-8)
Wedge is also printed during proofing
Free positioning of the wedge on all sides of the job possible
Options for multiple output and mirrored output of the wedge
Evaluation of the wedge also possible with self-defined ICC profiles
Logging of proof-relevant information, printing and measuring times
Proof evaluation report can be output for Dymo Label Writer or other printers
Embedded Output Intents


Use of embedded output intents from PDF/X files in proof workflows
16-Bit Color Rendering
For a higher color accuracy and smooth gradients
Preservation of pure colors
Preservation of black, CMYK or single CMYK channels as pure colors
Various options for color correction
Correction of brightness, contrast and gamma
Gradation curves
Separate or simultaneous channel processing possible
Dot gain correction


Correction of the dot gain up to +/- 40% for all or single separations
White point adjustment


Adjustment of the paper white simulation without alteration of the ICC profile
Spot Color Max


Output of spot colors in the maximum printer color space
DeviceProof


Separate setting of input and simulation profiles allows simulation of further digital printers
All output profiles are available for the simulation
Saturation enhancement
To increase the saturation of output colors
Gamut Viewer
Two- and three-dimensional (2D/3D) visualisation and comparison of color spaces
Special color printing (white/varnish/metallic; printer-dependent)
Support of white, varnish and metallic printing (on appropriate printing systems)
Output variants: pixel, filling, selective, flood, spot color, including preview, and others
Combination of process colors, silver metallic ink and white ink
Layering technology
Separate gradation curves possible
Spread and Choke: overlap/border filling adjustable for special colors
Intensity: adjustable intensity/density of the white or special color channel
Preview for white print
Preview (full screen, split, thumbnail, softproof)
Document view, placement on output media, rotated view, full screen preview, preview with special colors
Split: before and after display for visualization of changes
Thumbnail: job thumbnails, display of job properties
Softproof: simulation of the print output on screen, merging of separated PDF files
Loading of media size (printer-dependent)
Available for e.g. HP-DesignJet-Z series, Roland AJ, FP, VP, XC, XJ and various Epson Stylus Pro printers
Automatic or manual
Confidence strip
Printing of a confidence strip with the color channels used to ensure a consistent printout
Different positions and sizes possible
Various scaling options
Proportional/non-proportional scaling in height, width, percent
Automatic scaling to media size
Visual scaling: proportional scaling by means of a distance tool
Copy and layout print
Job repetetion, multiple output with only one RIP process, last row filling (better media utilization)
Device handled creation of multi-copies, in which the parameters are transferred from the RIP to the device controller (printer-dependent)
Cropping
Definition of print areas
Rotate and mirror
Rotate in 90° steps
Jobs can be rotated space-optimized, even automatically
Offset and centering
Horizontal/vertical offset adjustment
Centering on sheets and rolls
Cut marks and registration marks
Printing of cut and registration marks
Style: inner/outer marks, inner/outer frames, japanese marks; different line widths, styles and colors; can be placed on PDF TrimBox via function
Dimensions: symmetrical/asymmetrical adjustment of distance and length
Overlap/Tiling marks
Horizontal/vertical distance and width/height adjustable
Optional marks or solid lines
Printing of job information
Free to formulate
Contain e.g. EXIF data, input profils or the print date
Freely defineable formatting settings, e.g. position, font type, size and color
Interpolation for raster files
Various setting options for interpolating raster files such as TIFF, JPEG, etc.
Options: Nearest neighbour, Bilinear, Bicubic, Bicubic sharp
Anti Aliasing (printer-dependent)
Enhanced print quality for certain printers with low resolution
Replacement of missing fonts
Detection of missing fonts and optional replacement with Courier
Media compensation
Compensation of length and width deviations in the output format
Selection of various screens
FM - frequency modulated (Speed Screen, Frequency Screen, ColorGATE Crispy, ColorGATE Smooth, Floyd-Steinberg, Error Diffusion, Error Diffusion Smooth)
AM - amplitude modulated (Custom Screen, Super Rosette 2)
Hybrid - combination of AM and FM screening (Hybrid Screen 2)
JobInfoLog (monitoring of job processing)
Monitoring/logging of job processing, display of job- and event-related information, of print time, print speed and print area, warning e.g. of missing fonts
RIP and print simultaneously/automatically
Printing the job while RIP process is running
RIP/print automatically executable
Various options for job processing
Reproduction of already printed jobs without a new RIP process
Processed print jobs are optionally deleted automatically (different options possible)
Automatic pause after each print job / manual confirmation of the release for each print job
Flexible management of job queues
Importing/Positioning jobs using Drag&Drop
Simultaneous moving of multiple jobs within the job, RIP and printer queue
Job sorting according to numerous criteria possible, free definition of column type/number, automatic placement of new jobs to the correct position within the queue
Quick assignment of hotfolder settings
Transfer of hotfolder settings to individual jobs via mouse click
Possible for individual tabs as well as for all settings
Job duplication
Duplicating jobs
Creating links to other jobs
Sending jobs to other open printers
Transfer of an existing job including appropriate settings to another printer definition
Printer Status Monitor (printer-dependent)
Display of e.g. ink level, media length, warnings/error messages
Available for e.g. HP Z series, Roland AJ, FP, VP, XC, XJ and various Epson Stylus Pro or Canon printers
Support of virtual printers
For transferring print jobs out of an application
Including export of configuration specific PPD's (PostScript Printer Definitions) under PC/Mac/Unix
Backup/Restore of RIP configuration
Backup and restore of the current RIP configuration including program settings, printer definitions, jobs, profiles, etc.
Cutting function support for hybrid devices (only with PCM, printer-dependent)
Support of print and cut workflows for printing systems with an integrated cutting function
Display of color information (Color Picker)
CMYK percentage values displayed in full screen preview
Measured color can be replaced
System languages
Chinese (simplified), English, French, German, Greek, Italian, Japanese, Russian, Spanish
For following languages a basic localization is available: Chinese (traditional), Finnish, Korean, Norwegian, Polish, Portuguese
Support of raster file formats
BMP, JPEG, TIFF, PNG, PSB, PSD
Support of PDF, PS, EPS
Adobe PDF 1.7, PDF/X-1a, PDF/X-3, PDF/X-4, PDF/X-5 and PDF/VT
Postscript 3, EPS, DCS 2.0
Single-page/multi-page and separated possible
Operating systems (64-Bit):
Microsoft Windows 10 (Pro, Enterprise)
Microsoft Windows 11
Microsoft Windows Server 2016
Microsoft Windows Server 2019
(For optimal performance we recommend Microsoft Windows 10 or 11)
Apple Mac devices with ARM-based processors (M1 chips) are not supported. On Intel-based Macs, Productionserver can be used in conjunction with a hardware dongle (Single Host License / Hardware) and Parallels Desktop.
Minimum hardware requirements:
CPU: Intel Core i3-2100 / AMD Athlon II X2 340
RAM: ≥4 GB
Free disk space: 120 GB
Display resolution: 1280 x 1024
Recommended for using one printer:
CPU: Intel i5-7500 or newer / AMD Ryzen 5 1600 or newer
RAM: ≥8 GB
Free disk space: 120 GB SSD
Display resolution: 1920 x 1080
Recommended for using multiple printers:
CPU: Intel i9-9900K or newer / AMD Ryzen 7 3800X or newer
RAM: ≥16 GB
Free disk space: 512 GB NVME
Display resolution: 1920 x 1080
Installation and operation:
USB port for hardware dongle required; LAN adapter, TCP/IP for network access required, software-based licenses require internet access (the software must connect to license server approximately once per day)
Supported interfaces (depending on used printers, measuring devices and cutting plotters):
Ethernet, TCP/IP, USB, FireWire
Use in virtualized environments:
Software based licenses:
Operation of the ColorGATE software on virtual machines is not permitted with software based licenses.
Hardware based licenses ("hardware dongle"):
If the virtualization solution supports USB, ColorGATE software can usually be operated with hardware based licenses. Please note, however, that ColorGATE cannot provide support for problems that occur in the context of the virtualization solution. There may be restrictions when printers, measuring devices or cutting plotters are connected via USB. In addition, the hardware requirements must be exclusively available as resources for the virtual machine to ensure a high-performance operation of the software. For these reasons, we recommend using virtualized environments for testing purposes only.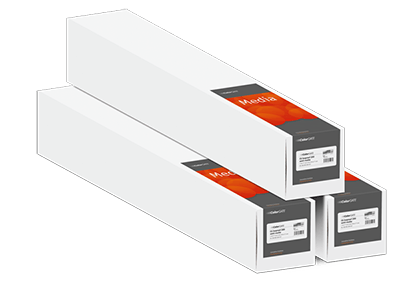 Proofpaper CG Isoproof
Fogra-certified high-end proof paper
For proofing systems from Canon, Epson and HP