Join our Applied Color Management Webinar
- Delivered by Certified Experts
Overview
Date: June 22 - 23
Time: 2 - 5 p.m. (CET)
Duration: 3 hours per day
FIND OUT HOW TO BUILD YOUR OWN COLOR MANGEMENT WORKFLOW!
Color management is no witchcraft nor voodoo. But, it can save companies time and money if done in an excellent way! Color management means understanding what color is, how it travels and changes in your production workflow and how you can make sure that it stays consistent and reliable from the creative design through to the production stage.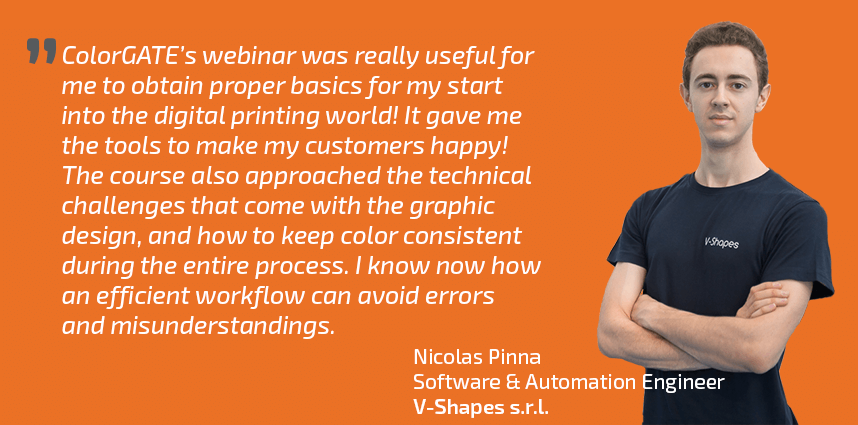 Do you want to be in the know? Do you want to understand what's going on behind the scenes of digital printing and color managed workflows? If so: we will teach you, in an easy-to-understand training that is delivered in 2 x 3 hours, on June 22 & 23 from 2 - 5 p.m. (CET). Interested, but no time? We are happy to record your data. Contact us!
Content
Our Applied Color Management training gives you the essential knowledge and tools to
Understand color and device color spaces
Create ICC profiles and soft proofs
Calibrate your printer
Work with PANTONE® and spot colors
...and much more!
It is targeted to all designers, operators and production managers that work with digital printing.
So if you are looking for a training with an excellent value, don't look further! ColorGATE is one of the most respected providers of color management software, hardware and services, and the knowledge that you learn from our certified specialists can save you a lot of money in the long run! ​​​​​​
When registering, you can also suggest one special topic of interest for you, and our trainers will check if it can be added to the curriculum.
Register Now!
Your registration leads to a binding booking of a seminar seat. ColorGATE will send you an invoice to your email address, and the invoice needs to be paid before the webinar.
Users with an active ColorGATE Value Pack: EUR 399*

Users with no active Value Pack: EUR 499*
*Please note that the participation fee is payable per person. If you would like to participate with more than one person, please contact us and we will prepare an individual offer for you.
PRICE FOR VALUE PACK USERS:
399 EUR*
OTHER ATTENDEES: 499 EUR*
*per person